Here's how to turn 8 days of annual leave into almost 7 weeks of holidays!
Publish Date

Friday, 22 September 2023, 1:32PM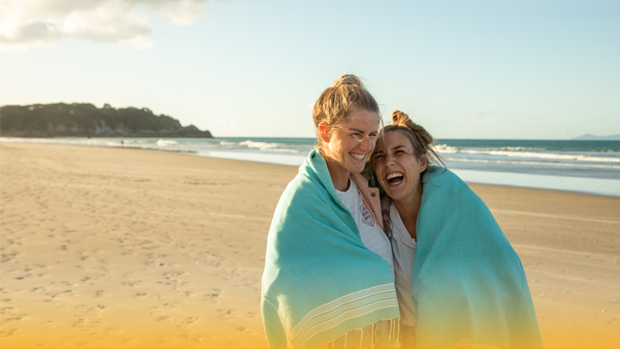 Loophole lovers unite, we have the ultimate hack for you on how to have a long holiday with minimal leave days taken! 
After the drought of public holidays, Labour Day weekend begins the long lead into summer. With a little extra planning, and some strategic leave applications, you can gain 34 days off for just eight days of paid leave in 2024. That's just under seven working weeks OMG! 
This includes a bumper 11-day Christmas break and 4-four-day long weekends through until July. 
Of course the hack relies upon a job with a normal Monday to Friday work week, standard public holidays, and booking your leave before your colleagues cotton on to what's up for grabs in 2024. 
With Christmas Day and New Year's Day falling on a Monday this summer, by taking three days over the 'in-betwixt-mas' period (27, 28 and 29 December) you can line up an 11-day break. Boxing Day is a bonus and the New Year's Eve stat day is carried over to Tuesday 2 January. 
Waitangi Day falls on a Tuesday this year, meaning Monday 5 February is crying out to be taken as leave. Similarly Anzac Day is a Thursday, so 26 April is there to give you one more four-day weekend. 
Easter Sunday falls on the 31 March in 2024, giving a four-day weekend ending Monday 1 April - no leave needed. 
June is the last chance to add to your public holidays, and this year it is bookended by two 'stat days'. 
King's Birthday weekend gives Monday 3 June as a public holiday. 
Matariki, New Zealand's mercurial midwinter festival, is on 28 June. 
As the closest Friday to the Tangaroa lunar calendar period, taking the 1 July stretches out the long weekend into the new month. Then it's back to the winter wait for October Labour Day to roll around. 
Regional public holidays also add to the leave total. 
For Aucklanders, Anniversary Day falls on Monday the 29th January. For Wellingtonians Monday 22 January is a day off. An extra day off can keep those long four-day breaks coming to maximise annual leave. 
For Cantabrians Anniversary celebrations fall on 17 November, meaning they can start summer early, taking Monday November 20 2023 off to recover and rest for what is going to be a bumper summer holiday. 
How to turn 8 days leave into 34 days and six long breaks 
Christmas and New Year's Holidays: Take 3 days off (27, 28, 29 December) and enjoy 11 days of rest from Saturday, 23 December, 2023 to Tuesday, 2 January, 2024 
Auckland Anniversary Long Weekend: Take 1 day off (26 January) and enjoy 4 days of rest from Friday, 26 January, 2024 to Monday, 29 January, 2024 
Waitangi Day: Take 1 day off (5 February) and enjoy 4 days of rest from Saturday, 3 February, 2024 to Tuesday, 6 February, 2024 
Anzac Day: Take 1 day off (26 April) and enjoy 4 days of rest from Thursday, 25 April, 2024 to Sunday, 28 April, 2024 
King's Birthday Long Weekend: Take 1 day off (31 May) and enjoy 4 days of rest from Friday, 31 May, 2024 to Monday, 3 June, 2024 
Matariki Long Weekend: Take 1 day off (1 July) and enjoy 4 days of rest from Friday, 28 July, 2024 to Monday, 1 July, 2024 
This article was first published on the NZ Herald and is republished here with permission.
Take your Radio, Podcasts and Music with you