Here's the best way to return your white sneakers to their former glory
Publish Date

Wednesday, 28 March 2018, 12:35PM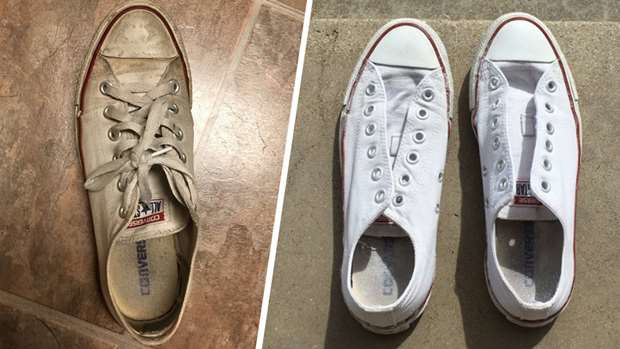 Everyone's got an old pair of white chucks sitting at the bottom of their wardrobe which are disgustingly dirty from everyday wear or that moshpit mud at a festival...
But before you go and shell out $100 for a new pair of sneaks, try these easy as sneaker-cleaning hacks:
USE WHITE NAIL POLISH TO COVER SCRATCHES
A little touch up with white varnish will easily hide any scratches or scuffs that can't be washed off. Just think of it like you would touching up a manicure.
USE DILUTED BLEACH
Make a solution of bleach diluted with plenty of water.
Dip your toothbrush in the diluted bleach solution and scrub the shoes gently. Rinse with warm water when you're finished
USE VINEGAR TO GET RID OF STAINS
Apply vinegar to a clean cloth and rub gently to magic away small marks.
USE A TOOTHBRUSH
For more stubborn stains, scrub gently with a mild soap and warm water using an old toothbrush.
USE GENTLE SHAMPOO ON OIL STAINS
If you get any oil stains on your favourite plimsolls, as soon as you get home treat them with your mildest shampoo and warm water and use a toothbrush or cloth to gently wipe away the stain.
AVOID SUN EXPOSURE
Store your trainers in a cool, dark place, as sun exposure can discolour the white material, leaving a grubby, yellow tinge.