WELLINGTON: DEAD Movie Premiere Starring Tom Sainsbury!
Publish Date

Monday, 14 September 2020, 6:00AM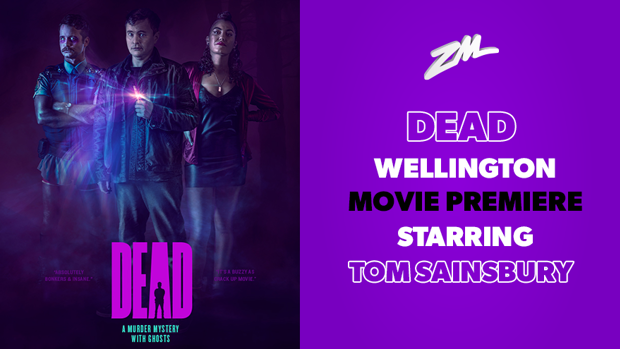 DEAD, a murder mystery with ghosts starring comedian superstar Thomas Sainsbury is coming to cinemas in Wellington and we want to celebrate with you!
Catch up with the ZM Black Thunders on street this week for your chance to score a double pass and be sure to join us on opening night at the Roxy Cinemas this Saturday for your chance to cash in on $100!
All you need to do is chuck on your best ghost, ghoul or general dead person costume to be in to win!
DEAD, the comedy horror of the decade.
Co-written by and starring Thomas Sainsbury (of Facebook and Snapchat fame) and 2020's New Zealander of the Year Jennifer Ward-Lealand, DEAD is a racy, adrenaline-fueled detective story with a twist: ghosts.
Marbles is a stoner who can see ghosts thanks to a homemade concoction of neurological medication and weed. When Marbles agrees to help recently murdered Officer Tagg solve a serial killer case, he comes face to face with ghouls, perverts, and the woman of his dreams and the stoner medium must work with the prejudiced ghost cop to overcome evil.
Deemed hilarious, charming and touching by reviewers, DEAD is was made independently in New Zealand and features this exact pair of exquisite Zoe & Morgan earrings worn by actress Jessica Sayer.
DEAD is supported by Electric Kiwi, home of the hour of power and another great Kiwi independent.
#deadthemovie #MarblesCanSeeGhosts #👻