ZM Presents: Top 100 songs of the Decade
Publish Date

Tuesday, 17 December 2019, 1:35PM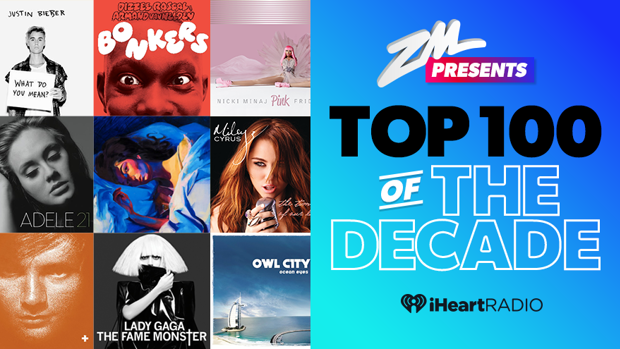 As the decade comes to end, we're looking back on some of the hottest hits of the decade.
ZM Presents: Top 100 songs of the Decade. 
Ed Sheeran became a hit making machine, with his first single, The A Team, launching his career and fame to record breaking heights. 
Lady Gaga stunned us all with her statement fashion and wild music videos, and went from pop sensation to movie star within the the decade. 
Bruno Mars became everyone's heartthrob after his debut studio album Doo-Wops & Hooligans was the second best selling album in New Zealand in 2011, following Adele's 21. 
Our very own Kiwi, Lorde, made New Zealand proud with Royals taking home the Grammy for Song of the Year in 2014. 
Join ZM on New Years Eve (December 31st) from 10 AM as we countdown the Top 100 songs of the 2010's!
Here's the full list in case you missed it!
| | | |
| --- | --- | --- |
| 1 | We Found Love | Rihanna & Calvin Harris |
| 2 | Uptown Funk | Mark Ronson & Bruno Mars |
| 3 | Royals | Lorde |
| 4 | Shape Of You | Ed Sheeran |
| 5 | Blank Space | Taylor Swift |
| 6 | Don't Give It Up | Six60 |
| 7 | Hello | Adele |
| 8 | California Gurls | Katy Perry & Snoop Dogg |
| 9 | Closer | The Chainsmokers & Halsey |
| 10 | Party Rock Anthem | LMFAO |
| 11 | I Don't Care | Ed Sheeran & Justin Bieber |
| 12 | See You Again | Wiz Khalifa & Charlie Puth |
| 13 | Old Town Road (Remix) | Lil Nas X & Billy Rae Cyrus |
| 14 | Teenage Dream | Katy Perry |
| 15 | Happy | Pharell |
| 16 | Call Me Maybe | Carly Rae Jepsen |
| 17 | Wild Ones | Flo Rida & Sia |
| 18 | Despacito (Remix) | Luis Fonsi & Justin Bieber |
| 19 | Love The Way You Lie | Eminem & Rihanna |
| 20 | Thinking Out Loud | Ed Sheeran |
| 21 | Sorry | Justin Bieber |
| 22 | Get Lucky | Daft Punk |
| 23 | God's Plan | Drake |
| 24 | Knock You Down | Keri Hilson, Kanye West & Ne-Yo |
| 25 | One Dance | Drake |
| 26 | Dark Horse | Katy Perry & Juicy J |
| 27 | Rolling In The Deep | Adele |
| 28 | Whatcha Say | Jason Derulo |
| 29 | Somebody That I Used To Know | Gotye & Kimbra |
| 30 | Never Be Like You | Flume |
| 31 | Moves Like Jagger | Maroon 5 & Christina Aguilera |
| 32 | Tik Tok | Ke$ha |
| 33 | Empire State Of Mind | Jay-Z & Alicia Keys |
| 34 | Just The Way You Are | Bruno Mars |
| 35 | Memories | David Guetta & Kid Cudi |
| 36 | The A Team | Ed Sheeran  |
| 37 | Don't You Worry Child | Swedish House Mafia |
| 38 | Bad Romance | Lady Gaga |
| 39 | Titanium | David Guetta & Sia |
| 40 | In My Head | Jason Derulo |
| 41 | Wake Me Up | Avicii & Aloe Blacc |
| 42 | Give Me Everything | Pitbull & Neyo |
| 43 | Telephone | Lady Gaga & Beyonce |
| 44 | Down | Jay Sean & Lil Wayne |
| 45 | Nothing on You | B.O.B & Bruno Mars |
| 46 | Can't Stop The Feeling | Justin Timberlake |
| 47 | What's My Name | Rihanna & Drake |
| 48 | Hall Of Fame | The Script & Will.I.Am |
| 49 | Woke Up Late | Drax Project |
| 50 | Last Friday Night | Katy Perry |
| 51 | Without You | David Guetta & Usher |
| 52 | Thank U, Next | Ariana Grande |
| 53 | Nobody To Love | Sigma |
| 54 | Fireflies | Owl City |
| 55 | This Is What You Came For | Calvin Harris & Rihanna |
| 56 | Payphone | Maroon 5 & Wiz Khalifa |
| 57 | Can't Hold Us | Macklemore |
| 58 | Rasie Your Glass | P!nk |
| 59 | Party In The Usa | Miley Cyrus |
| 60 | The Middle | Zedd & Maren Morris |
| 61 | If We Ever Meet Again | Timbaland & Katy Perry |
| 62 | Love Yourself | Justin Bieber |
| 63 | Superbass | Nicki Minaj |
| 64 | Young, Wild And Free | Wiz Khalifa, Snoop Dogg & Bruno Mars |
| 65 | Roar | Katy Perry |
| 66 | DJ's Got Us Falling In Love | Usher |
| 67 | New Rules | Dua Lipa |
| 68 | Take Me To Church | Hozier |
| 69 | Sweet Dreams | Beyonce |
| 70 | Want To Want Me | Jason Derulo |
| 71 | Green Light | Lorde |
| 72 | Cooler Than Me | Mike Posner |
| 73 | Where Have You Been | Rihanna & Calvin Harris |
| 74 | Domino | Jessie J |
| 75 | Talk | Khalid & Disclosure |
| 76 | Just A Dream | Nelly |
| 77 | Lean On | Major Lazer |
| 78 | Timber | Pitbull & Ke$ha |
| 79 | 24K Magic | Bruno Mars |
| 80 | What Do You Mean | Justin Bieber |
| 81 | Firework | Katy Perry |
| 82 | Sucker | Jonas Brothers |
| 83 | Shotgun | George Ezra |
| 84 | Where Are U Now | Jack U & Justin Bieber |
| 85 | Can't Feel My Face | The Weeknd |
| 86 | Good Girls Go Bad | Cobra Starship |
| 87 | Feel So Close | Calvin Harris |
| 88 | Starships | Nicki Minaj |
| 89 | Bulletproof | La Roux |
| 90 | I Know You Want Me | Pitbull  |
| 91 | Trumpets | Jason Derulo |
| 92 | White Lines | Six60 |
| 93 | Right Round | Flo-Rida & Ke$ha |
| 94 | That's What I Like | Bruno Mars |
| 95 | Sexy Chick | David Guetta & Akon |
| 96 | Magic | B.O.B |
| 97 | Havana | Camilla Cabello & Young Thug |
| 98 | Club Can't Handle Me | Flo-Rida |
| 99 | She Looks So Perfect | 5SOS |
| 100 | Bonkers | Dizzee Rascal |