These sweet chili, ham & cream cheese scrolls could be the next lockdown craze
Publish Date

Friday, 27 August 2021, 4:20PM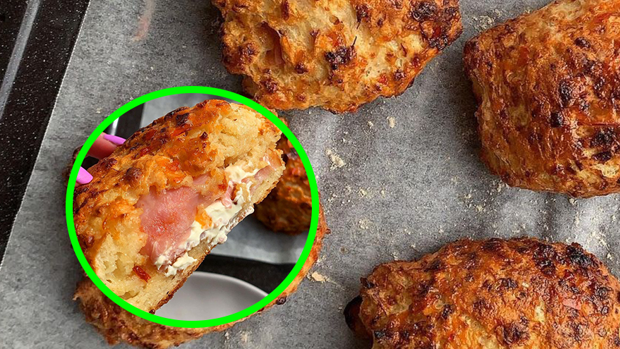 So last time around we had banana bread and lockdown loaves, but it seems we could have a new kid on the block and it looks delish!
Introducing sweet chilli, ham and cream cheese scrolls, created by New Zealand Instagram foodie Kitty's Kitchen.
Kitty's Kitchen is an IG page dedicated to sharing home-cooked meals and recipes. The page is run by Kitty Williams and in recent days her following has almost doubled, for good reason of course.
So if you're a little bored, or feel like a savoury treat look no further than these magnificent morsels. 
Here's what you need:
Sweet chilli, ham and cream cheese scrolls recipe:
2 cups of flour
250g of tasty cheese
1 tablespoon paprika
4 teaspoons baking powder
1 cup milk
Generous pinch of salt
12 slices of shaved ham
4 tablespoons of cream cheese
¼ cup sweet chilli sauce
Method:
1. Preheat oven to 200C.
2. Sieve flour, baking powder, salt and paprika into a large bowl. Now add the grated cheese and milk. Stir until well combined. The mixture will be wet and sticky.
3. Dust a chopping board with flour and divide the mixture into 4. Create 4 rectangular shapes and place them onto the chopping board.
4. Brush sweet chilli all over. Add 3 slices of shaved ham to each scroll. The ham should be slightly overlapping each other.
5. Place a tablespoon of cream cheese at the bottom of the scroll then start rolling it over, starting from the cream cheese end. Roll until you have a perfect scroll. Brush some more sweet chilli over the top.
6. Place the scrolls onto a lined baking tray and put into the oven for 20-25 minutes.
So there you have it, the latest lockdown food fad is super easy to make, will feed a household and you'll be enjoying a food coma once again. Honestly, what is better than that?
This article was originally published by NZ Herald (with added content by ZM) and reproduced here with permission. 
Want more? Laugh out louder with Fletch, Vaughan & Megan weekdays from 6AM – Or catch up with their poddy below!